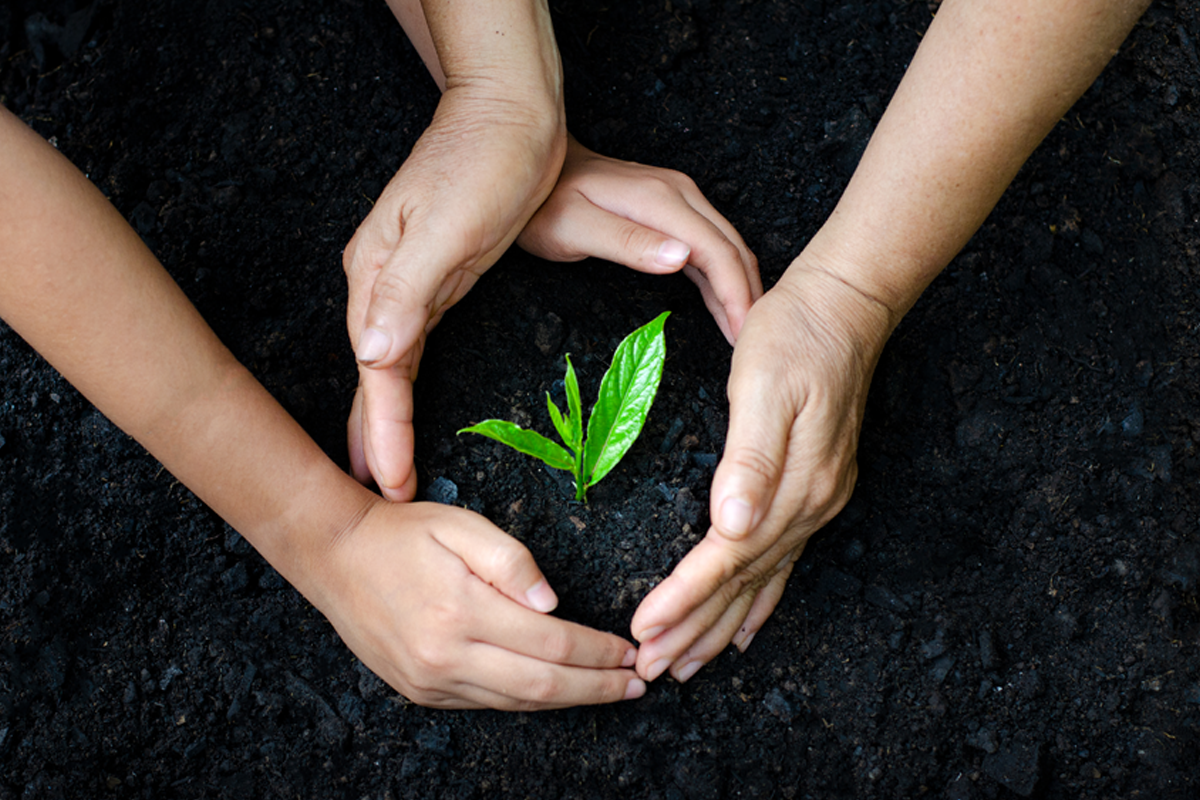 Sustainability issues are at the forefront of most people's minds. More and more customers are looking to businesses and their own habits to see how they are impacting the environment.
Everyone is responsible at some level to ensure that the Earth and its natural resources are not damaged beyond repair. End users, companies and wider industries must work together towards a better collective future.
There are many ways people can live more sustainably in their everyday lives. At the same time, there are many ways in which businesses can provide more environmentally friendly work practices by working within the framework of the circular economy.
What Is the Circular Economy?
The Circular economy aims to change working practices in a way that benefits society. Currently, the industrial model is very wasteful with 2 billion tonnes of solid waste being generated annually.
Unlike a linear economy, economic growth and activity is refocused to build and rebuild overall system health. Examples of practices include designing products that can be recycled into something that can be used again or powering businesses with renewable energy.
Transitioning to a circular economy builds long-term resilience and generates business opportunities, as well as providing natural and social benefits. By rethinking the way we work and create products helps us to build a restorative economy across the supply chain.
Circular Economy Principles
According to the Ellen MacArthur Foundation, the circular economy model is based on these three principles:
Design out waste and pollution.
Keep products and materials in use.
Regenerate natural systems.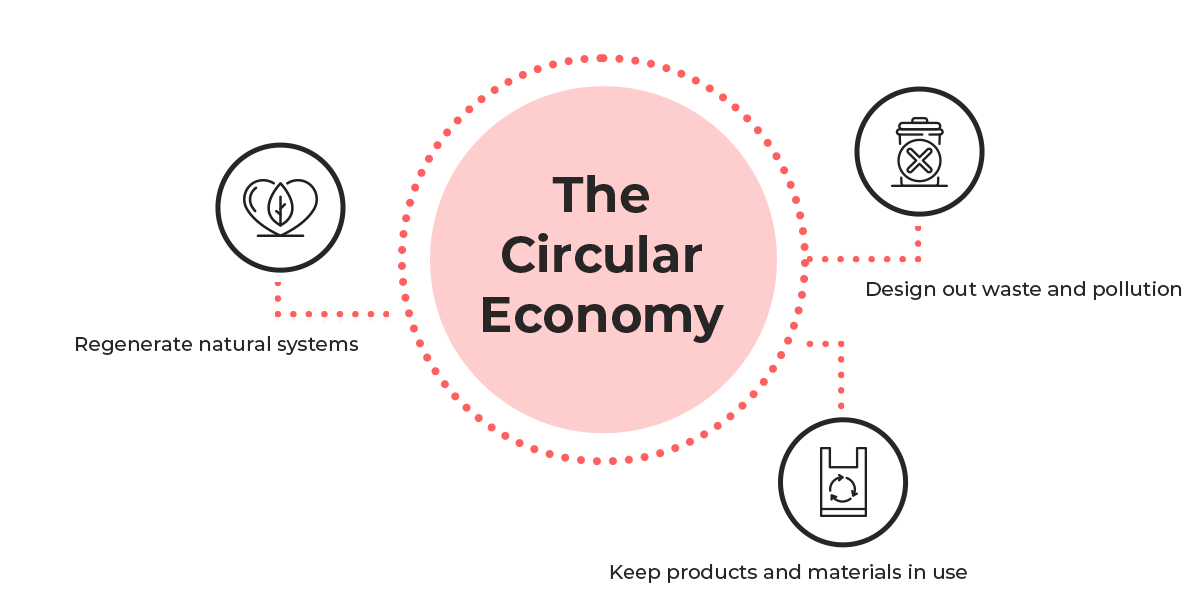 For these principles to become widespread, core processes will need to change. Policy makers, industry leaders and businesses all need to lead by example to ensure that these values are upheld at every level.
The shift towards a circular economy means that new business models will need to either replace or shift existing ones. Models need to be designed to encourage working methods that minimise waste, allow for the reuse of products or materials and help to support sustainable ecosystems.
As technology advances, the opportunity for businesses to transition to a circular economy has become easier than ever before.
Things You Can Do to Support the Circular Economy
It is down to every industry to behave consciously and create an environment that does more good than harm. There are a few things you as a business can do to work within a circular economy.
One of these is to reduce your consumption. Rather than using harmful resources such as plastic and filling landfills with single use items, purchase less and with the knowledge of where products have come from.
To reduce waste, seek products that can be truly recycled. Making products from waste is a great way to ensure a circular economy. Reusing products or materials reduces the creation of more waste.
Another way to encourage the circular economy is to tell others about it. By presenting yourself as a business that follows a circular economy, your clients and their customers can better understand your values. By making responsible choices, you will build a positive reputation for yourself.
How Premier Brands Supports the Circular Economy
At Premier Brands, we supply a range of products that are reusable and made from sustainable, raw materials. All the drinkware products we supply are designed to reduce the dependence on single-use plastics.
Ecoffee Cup®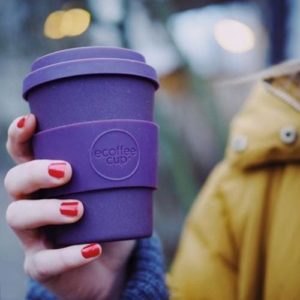 Ecoffee Cup® is a new generation of takeaway cup that is environmentally responsible and reusable. Designed to replace single-use coffee cups, these products feature a resealable 'no drip' lid and can be put in the dishwasher.
The cups are made from a composite of natural fibre, non-GMO corn starch and a plant-based resin derived from aloe and soybean extract. The natural fibre is upcycled from materials previously burned by farmers. These materials are plentiful and do not require any form of forest or food-compromise farming.
Ecoffee Cup® is made with more than 97.5% natural materials and, unlike most bamboo fibre products which consist of up to 60% melamine, they have been independently tested and verified by UK test house, Intertek to contain less than 3% melamine.
Their sleeves and lids are made from pure, latex-free food grade silicone, sourced from oxygen and silica (sand).
Ecoffee Cup® believe in taking responsibility for everything they create and they ensure that none of their product components end up as waste.
The stylish cups come in a range of sizes and colours to suit any activity. The products are a great alternative to single-use cups and a perfect suggestion for your clients operating within the circular economy.
Find out more about the Ecoffee Cup® drinkware products we supply.
Circular & Co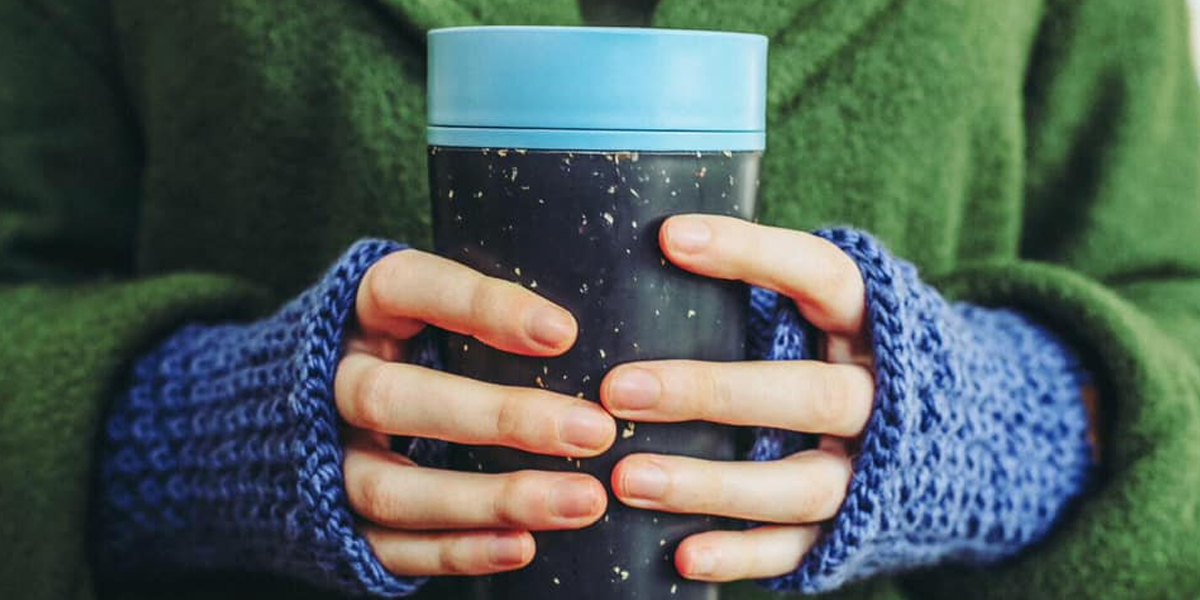 Circular & Co designed the world's first 100% leakproof reusable coffee cup that is made from single-use paper cups. The cup is intended to be used for 10 years and is 100% recyclable at the end of its life.
Designed with practicality and circularity in mind, this travel mug uses a unique push lid mechanism that minimises spillages. The outer thermal insulation layer is made from used paper coffee cups.
On average, 2.5 billion coffee cups are thrown away each year in the UK. By supplying the Circular Cup to your clients, you could save hundred of single use cups from landfill and contribute directly to the recycling of these cups.
Find out more about the Circular & Co coffee cups we supply.
CamelBak®'s  Tritan™ Renew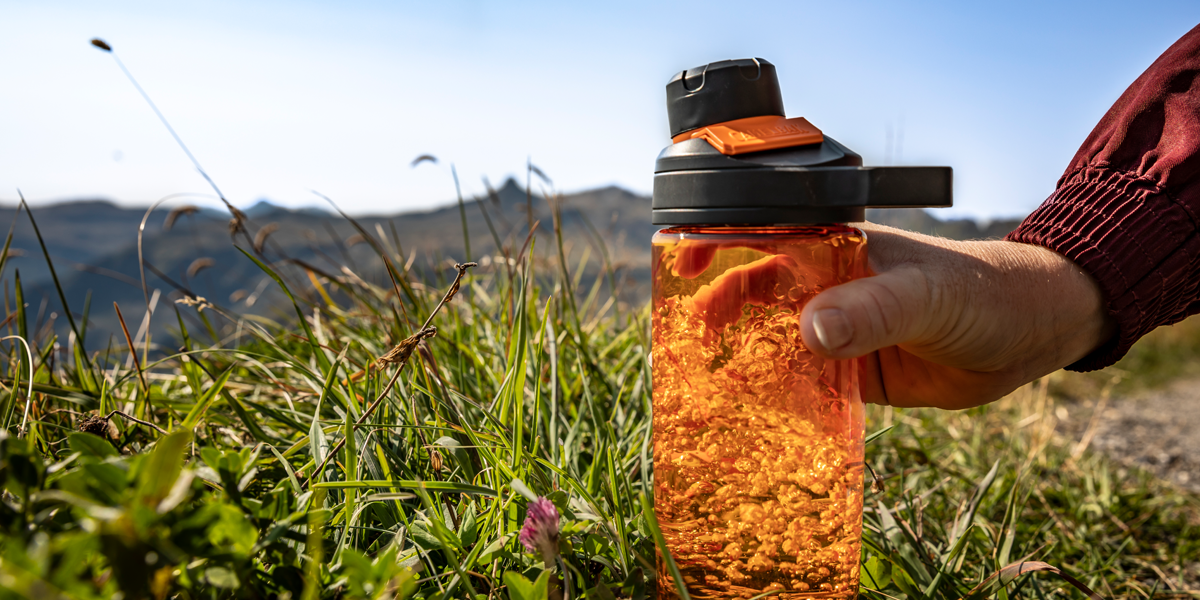 CamelBak® has a vision to reduce the use of plastic by offering alternatives to disposable plastic bottles. They want to keep plastic bottles out of landfills and the oceans.
All the bottles and travel mugs created by CamelBak® are reusable to create a sustainable solution to those that already exist. Their line of everyday water bottles is now made with Tritan™ Renew, an innovative plastic that uses 50% recycled material in place of fossil-based resources.
Using Polyester Renewal Technology (PRT) , the materials can be broken down to the molecular level and rebuilt to create renewed materials and products. This circular recycling ensures durability, quality and clarity with their products.
Find out more about the CamelBak® drinkware products we supply.
Join Us in Supporting the Circular Economy
We have over 30 years of experience in the branded products industry and can create branded promotional products that best suit the client and their values. Our expertise means that we can create promotional items to suit different industries and environments.
It is our role to help make your life easier by pairing high quality products with exciting branding and compelling marketing messaging.
If you would like to know more about the products we supply, please get in touch. We will be happy to talk through your client's needs or the circular economy in more detail.