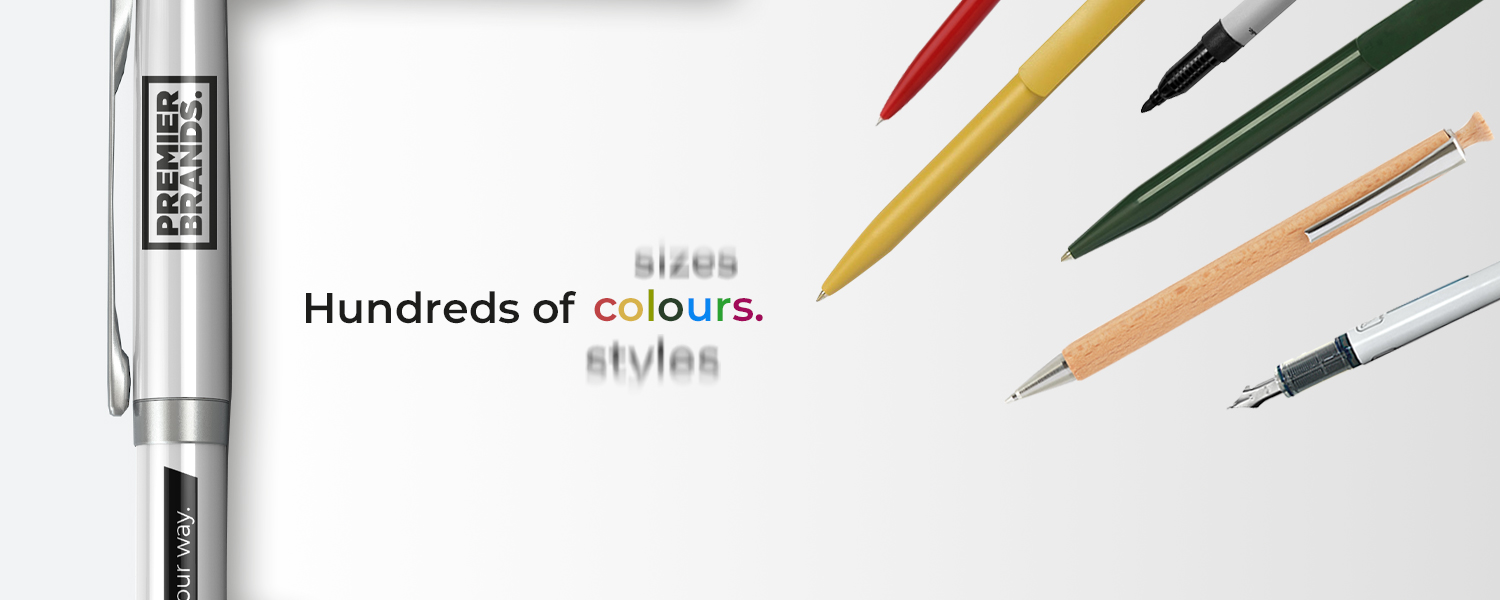 Despite all the advances in modern technology, the humble pen is still one of the most used stationeries in everyday life and remains one of the most popular promotional products for those looking to increase brand visibility.
Without the reliance on external factors such as batteries or network connectivity, pens are a trusty and reliable part of people's daily lives. This popularity is why personalised pens is such an effective and popular marketing technique. Not to mention, this choice of promotional product is one of the most long lasting and therefore highly cost effective.
Promotional pens are especially effective at physical events. Whether your clients offer them in their stores, at exhibitions, on staff training days, during seminars, trade shows or at corporate events. Physical events are always a good opportunity to put your brand in people's hands and increase your brand awareness.
Premier Brands are stocking some of the very best pens on the market with our range of Pilot pens. The range includes erasable pens with the FriXion technology, the G-2 gel ink pens, and V-Pen Disposable Fountain Pens.
What is FriXion technology?
The FriXion technology is based on heat-sensitive ink, which has been developed by Pilot for several years. They were designed to reduce the number of errors and omissions in your notes. Corrections can be made by rubbing the inscription with the special eraser located on the pen's body. Friction produces heat and discolours the ink, making all corrections imperceptible without damaging the paper.
Note that the ink does not disappear from the surface of the sheet but becomes invisible instead. There is no need for correctors that are always a few shades lighter than the paper. Write, erase, and write again as many times as you like!
The G-2 is a gel ink pen combining technological performance and design. Its ergonomic grip makes it easy to hold, while its highly resistant tungsten carbide ball retains its shape and is extremely hard wearing.
You will be delighted by the fluidity of its ink and the intensity of its colours. The G-2 is particularly well suited to all fine-writing enthusiasts. Available in black and blue – 0.7mm Tip size / 0.39mm line width.

Pilot's V-PEN combines the comfort and convenience of a rollerball with the fine-writing stroke of a fountain pen. The V-PEN is disposable, with the ink already loaded straight into the barrel. The UK's number 1 selling fountain pen that due to the uniquely designed tip is ideal for both left and right-handed writers. Available with assorted colour ink cartridges.
If you require to write on virtually anything including glass, metal, plastic, or foil – make your mark permanently with markers by Markie. Premier Brands offers a range of Markie markers in different sizes and shapes to suit your specific needs. The range consists of Fine, Mini, and budget Matt permanent markers.
They are all supplied with water resistant ink. In addition, there is a white board or dry wipe marker called Markie Dry. A bullet shaped marker with quick drying, non-toxic, alcohol-based ink, and a safety cap. It writes smoothly without scratching and wipes off easily with a dry cloth.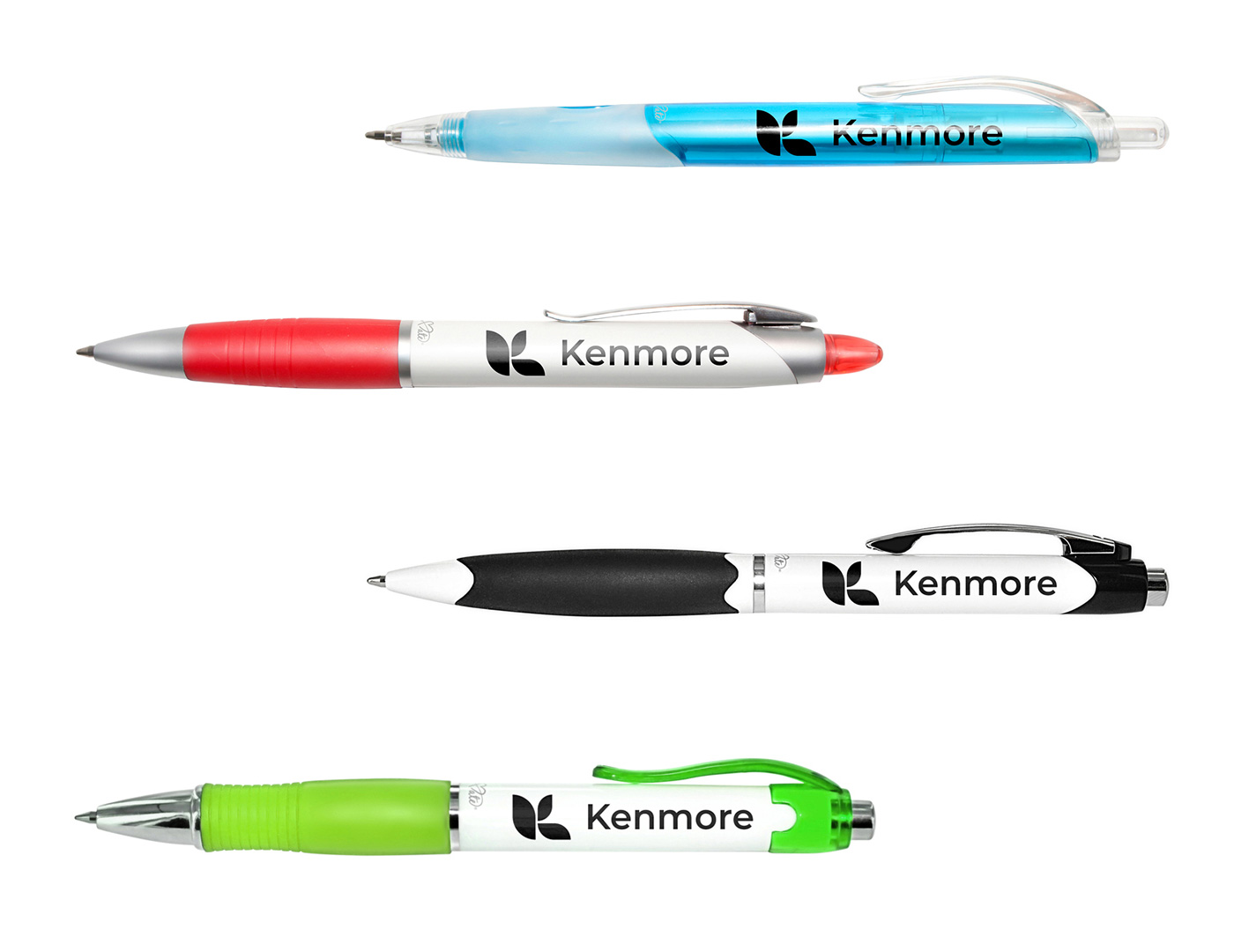 This excellent value for money range is available in a great choice of vibrant colours, to complement any marketing campaign. The pens are designed for a pleasurable writing experience. They come in four different types:
The PromoMate Curve ball pen is available in a choice of cheerful translucent colours, designed to suit the demands of the promotional gift market. Its comfortable rubber grip and modern design ensure a quality writing experience with good branding areas offering versatility for creative corporate designs.
The PromoMate Element is a modern and popular push button ball pen. With a choice of three trim colours the Element will easily complement any corporate identity. Its design includes a soft grip for a precise and comfortable writing experience.
The PromoMate Plunge is a plastic push button ball pen with metal trim. Its style and finish ensure both value for money and quality. The wave grip section guarantees a comfortable writing experience.
You can coordinate your campaign with ease using the PromoMate PromoGrip Gel pen, a modern classic available in a wide variety of trim colours. With a rubber grip and large branding areas, the PromoGrip Gel provides outstanding writing quality.
A high-quality black refill is supplied as standard with all PromoMate pens.

The exquisite PromoMate Metal range offers a comprehensive selection of elegant metal pens designed for a comfortable and balanced writing experience. The range is available in various colours to hit the mark in your campaign. They come in eleven different types – from classic styluses to ball and rollerball pens.
The range benefits from a slim twist action PromoMate Metal Classic Stylus ball pen suitable for printing or engraving. Available in either black or white colour.

Followed by a handy sized twist action PromoMate Metal Mini Stylus ball pen. The pen has a sleek design which incorporates a ring patterned grip. It is available in ten different colours.
The next pen's elegant design delivers style with comfortable and balanced writing experience. PromoMate Metal Kuro Rollerball pen is a quality product combined with generous branding areas. The pen is available in black.

PromoMate Metal Domino is a push cap metal ball pen with simple lines and understated elegance. The presence of a large branding area will sure have a positive domino effect on your marketing campaign. This style is available in black or white. All metal PromoMate pens can be branded with up to 4 spot colours, digitally printed or engraved. They all are sleeved with black ink refills as standard.

Premier Brands uses high-quality printing techniques to brand our range of pens. One of our most popular forms of printing for pens is Pad Printing. This printing method allows us to apply a company logo, graphic or message with a sharp image. It is a universal printing method, which is a perfect solution for printing on uneven surfaces or objects that have complex shapes.
Another popular method we use regularly is laser engraving, which is commonly used to mark metal and wooden pens.
For more information on the products we offer, or for guidance on branding methods, please get in touch. Our branding experts will be happy to discuss product ideas for your clients in more detail. You can email us at sales@premier-brands.co.uk or call us directly on 01273 512512. Alternatively, we will respond quickly to any messages that are submitted through our contact form.