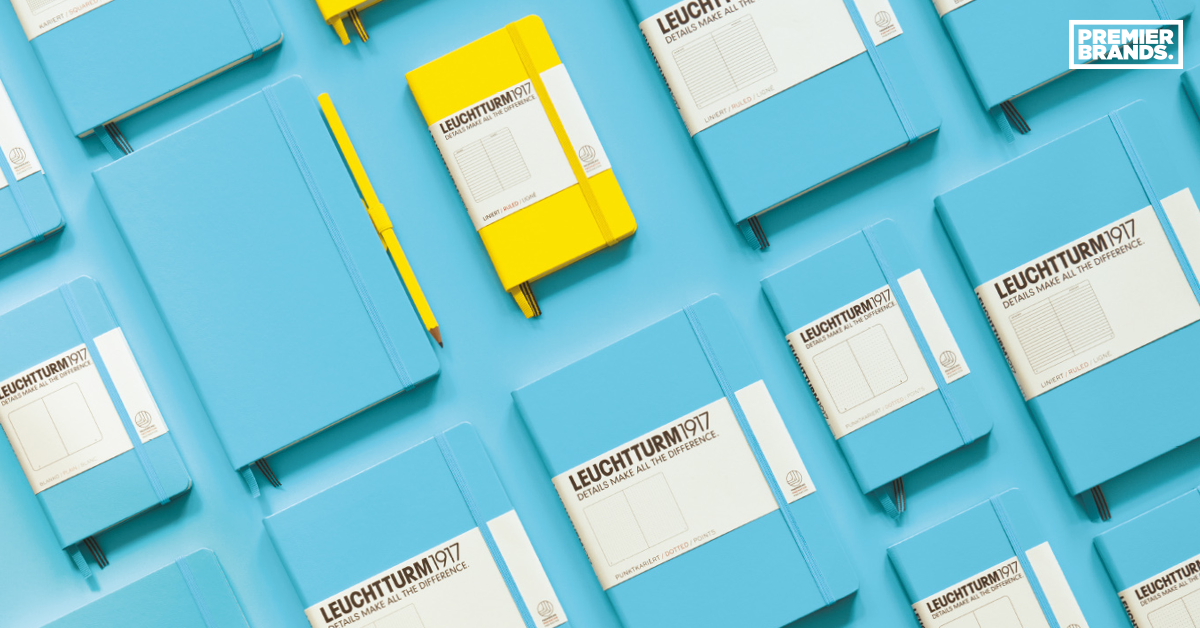 At a time when brand-reach is limited, businesses are thinking outside of the box at ways to maintain brand awareness with their customers and continue to build their brand image in-house. With social distancing and physical locations closing throughout the covid-19 pandemic, it is vitally important that business look at ways to keep their brand top of mind.
One of the best promotional merchandise products continuing to achieve this are branded notebooks.
Branded notebooks have been used as a traditional marketing tool for a number of years across a wide range of industries. They have become one of the most consistent platforms in delivering brand reinforcement. When you think about it, it is easy to understand why…
Branded notebooks raise your brands awareness by being visible on your desk, at meetings and when travelling
Notebooks are multi-use and multipurpose, meaning they will be used for a long time by all types of people across multiple industries
Branded notebooks are a permanent keepsake and are highly valued when used as a note-keeper, journal or diary
Notebooks are still highly popular, despite the rise in use of digital equipment such as computers, laptops and tablets.
Do people still use notebooks or has everyone gone digital?
It is easy to assume that, with the rise in use of computers, laptops and tablets, notebooks would have fallen by the wayside. However, this simply isn't true.
In fact, in 2019 there were only marginally less notebooks sold in the UK than there were in 2008, proving how their value has persisted over time, despite the rise in computer and tablet use.
A recent survey by Neolab Convergence Inc. found that professionals preferred pen and paper note taking for increased productivity and retention. That's right! Of the nearly 1,000 respondents, nearly 75 percent of business people prefer taking notes during meetings with pen and paper.
In a business meeting, there is a lot of information to process and organize, which means retention is a top priority. When asked about taking notes in meetings, 95 percent of respondents said they find it easier to remember things when they've written them down.
Perhaps most interestingly, 60 percent of respondents that write notes by hand said they type them up after the meeting. Meaning notebooks are being used as an extension of the digital workplace and not as alternative.
Using branded notebooks as a corporate or personal gift
Notebooks are perfect for both corporate and personal gifts.
As staff begin to return to the office after lockdown, businesses can support them and welcome them back to the office with something a little special, like a branded Leuchtturm notebook. Going the extra-mile with individualised personalisation will add a touch of class that will stick in the mind of the recipient for years to come.
The beauty of branding notebooks is that there are lots of different printing options available such as screen printing, digital printing and embossing. This allows for a whole variety of print outputs, depending on the exact requirements of the end-user (if you're considering branded notebooks but you want to discuss exactly what is possible, contact our team today and we will be happy to assist you).
Screen Printing: Screen printing is the best option to print solid blocks or patches of colour. Screen printing is a technique whereby a mesh is used to transfer ink onto a material, except in areas made impermeable to the ink by a blocking stencil. A blade or squeegee is moved across the screen to fill the open mesh apertures with ink, and a reverse stroke then causes the screen to touch the surface. This causes the ink to reach the surface through the mesh apertures as the screen springs back after the blade has passed.
Digital Printing: If you're looking to include a range of colours, a specific Pantone for the brand, sweeping gradients or full colour photography, a printed cover is by far your best option. This allows you to break away from just a company logo, letting your graphic designers run free with the design. In this way, you can combine illustration and text, imagery to their best advantage with an exceptionally cost-effective product.
Embossing: The logo or brandmark is milled onto a brass die, heated and impressed into the cover of your notebook. Here at Premier Brands, we also offer embossing with gold and silver foil which adds a final finish with superior quality to standard embossing.
Combined with the high quality of our Leuchtturm notebooks (see next section), embossing elevates your branded notebooks to another level. The finish is a real talking point for clients, customers and staff when your notebooks are in front of them.
If you are looking for merchandise that will not only turn heads, but get your audience talking – then gold or silver foil embossing is for you.
Which notebooks should you go for?
When it comes to branded notebooks, quality is essential in ensuring longevity and represent your brand in the best possible light.
Here at Premier Brands, we have partnered with one of the highest-quality, well-known and reputable notebook manufacturers on the market, Leuchtturm.
We believe that well executed brand promotion and merchandising deserves a budget which reflects the same quality that you are looking to communicate within the item itself. Our notebooks are not cheap alternatives, and we are proud of that.
Leuchtturm notebooks last an extremely long time and are built to the highest possible quality.
You can view our full range of Leuchtturm notebooks here.
Requesting assistance and moving forward with branded notebooks
At Premier Brands, we print branded notebooks on a daily basis for our clients across the UK. Our business has been serving customers for over 30 years of experience working in the promotional merchandising and print industry.
If you are would like any advice, or to request mock-ups and product samples, please contact our team today.