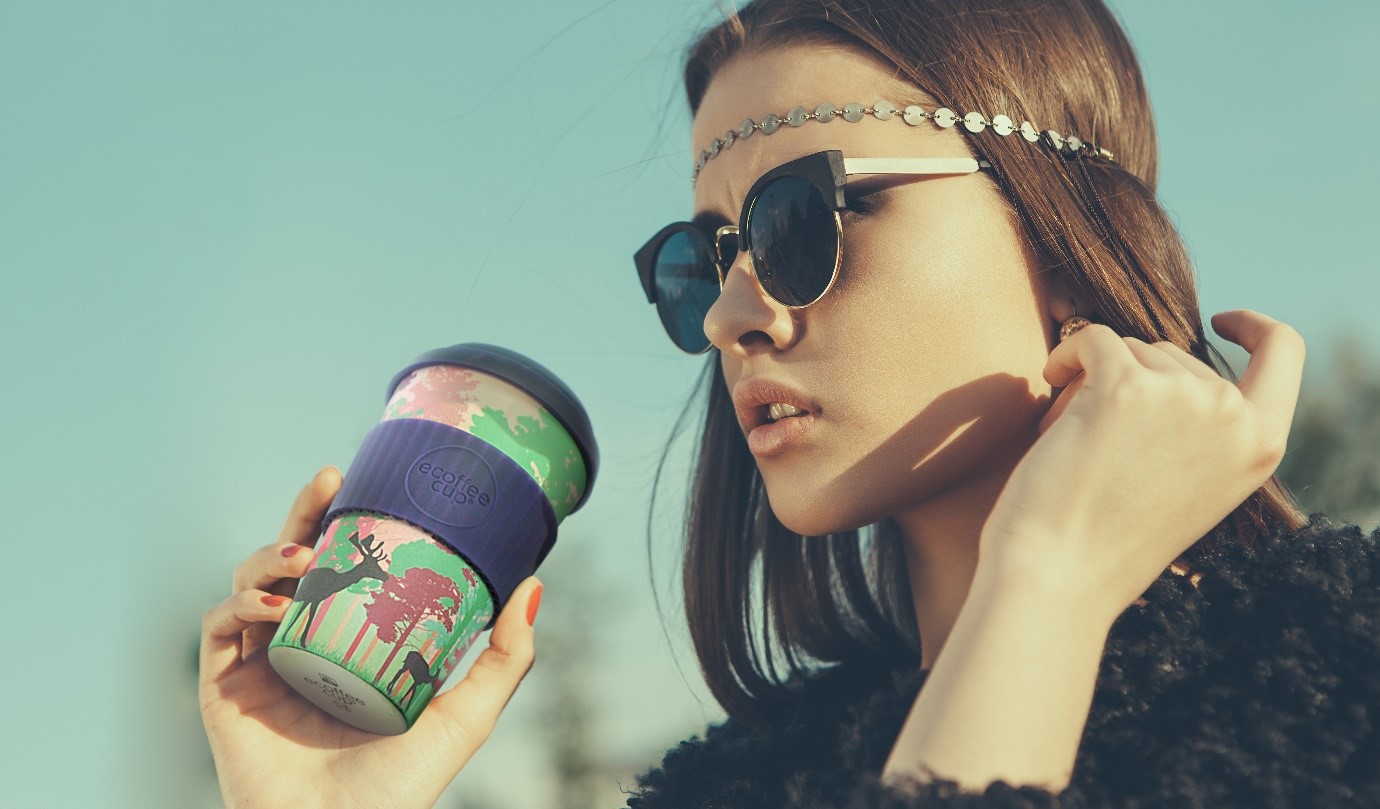 The conversation around branded reusable coffee cups is more relevant than ever. Millions of people drink coffee every day, with 16 billion disposable coffee cups used each year in the UK alone.
Most single-use coffee cups contain a plastic lining to prevent leakage. Unfortunately, it is this plastic that cannot be recycled and so the cups end up in the bin or incinerated.
In 2021, consumers are more concerned with environmental issues than ever and businesses need to cater to these changes. Using a reusable cup is or mug is the best way for coffee drinkers to reduce waste and tackle the landfill problem.
Why Branded Reusable Coffee Cups Are A Great Promotional Product
Reusable coffee cups are a great alternative to single-use cups. They are designed to last for years and reduce the need for wasteful disposable cups.
As well as the eco-friendly benefits, you and your customers can actually save money at coffee shops because of them. Many coffee chains offer discounted prices to customers who bring their own cup. Among those involved in this scheme are Pret a Manger, Starbucks and Costa Coffee.
On a user level, reusable cups are normally much better in terms of insulation and spillages. Disposable takeaway cups do not retain heat for long and do not feature a leakproof lid. Good quality reusable cups will do both things, allowing you greater versatility.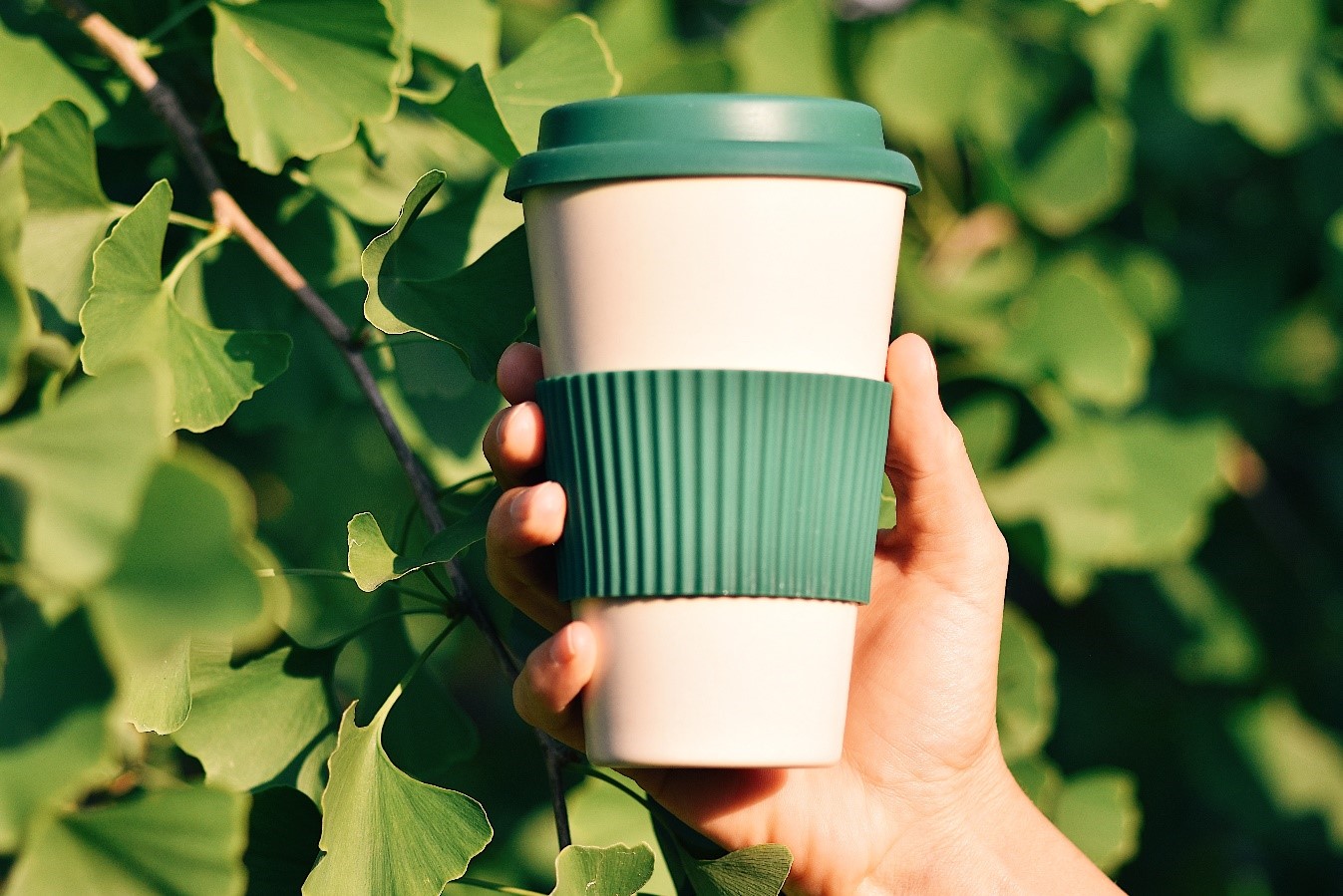 Branded reusable coffee cups are a brilliant marketing opportunity. Millions of cups of coffee are drunk every day, meaning that your branding could be seen daily. With repeated exposure to your brand, consumers are more likely to remember your business.
More so, branded coffee cups can help boost the reputation of your business. Investing in high quality reusable cups tells your audience that you are doing well and want to give something back to them. Reputation and trust are very important and so, the short-term investment into the coffee cups may be worth it for the long-term success.
With so much choice on the market now, it can be difficult to decide which coffee cup is best for your promotional needs. Here we take you through our favourite branded reusable coffee cups.
Our Choices for the Best Branded Reusable Coffee Cups
We will start with products that we have available at Premier Brands. Our brand partners are sourced with careful consideration in both product quality and customer satisfaction.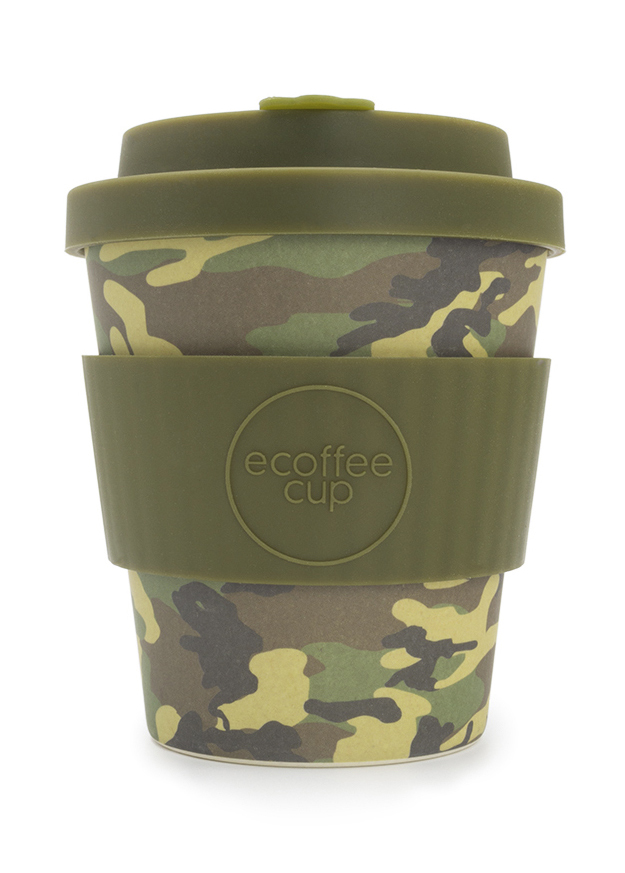 Made from a composite of bamboo fibre, corn starch and a plant-based resin, these coffee cups are made from excess farmer materials. At the end of its use, Ecoffee Cups can be sent back and repurposed into new cups.
In fact, it is a goal for Ecoffee to reduce plastic waste, after all, if 2 million people chose to re-use just once a week, we would stop 104,000,000 single-use cups going to landfill each year!
The Ecoffee Cup® was designed to be the perfect takeaway cup, replacing the need for single-use cups. Being made from natural materials, you will not be left with the taste of plastic after you take a sip.
These cups are available in a range of sizes including 8oz, 12oz, 14oz and 16oz to suit every coffee need. Dishwasher-safe and very light to handle, the sleek design of the cup is a winner for all businesses.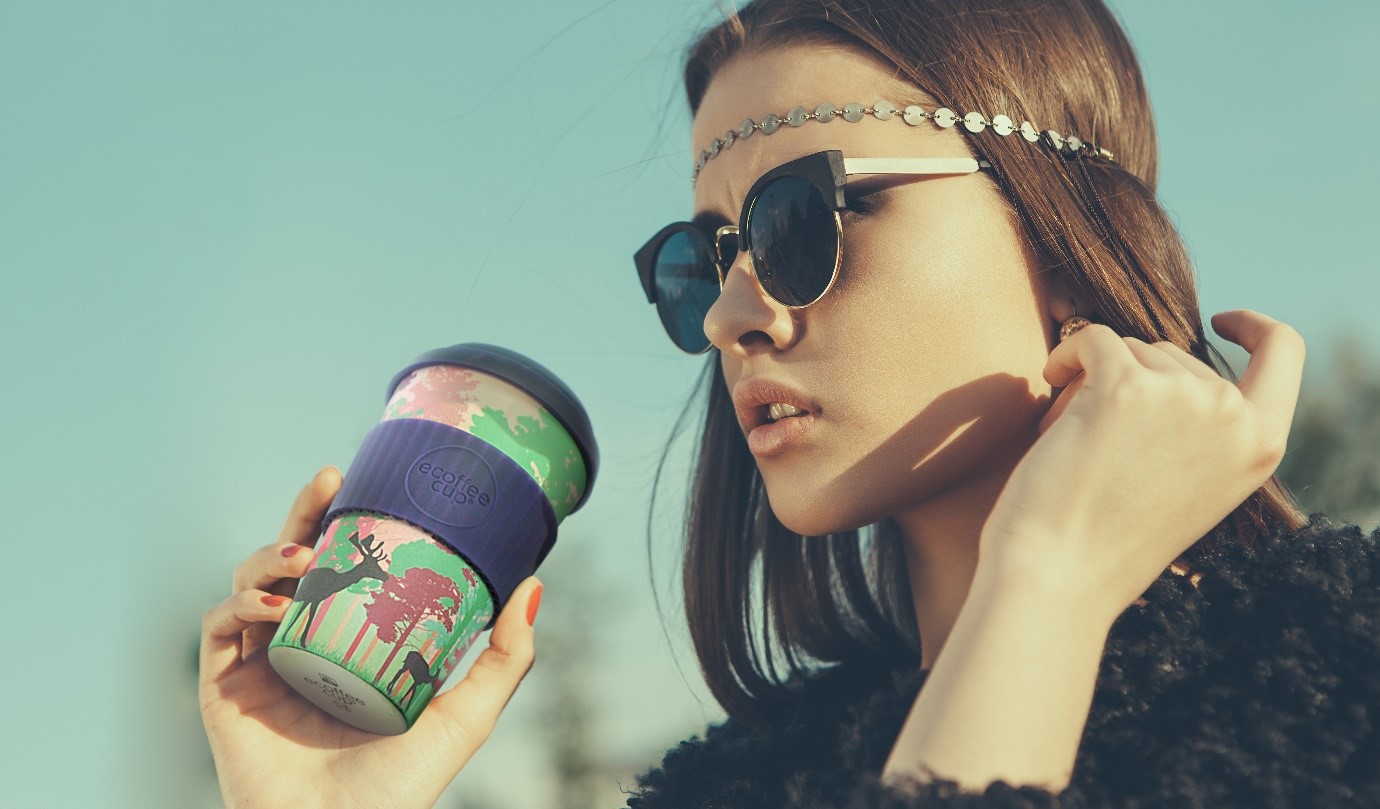 Another great choice for branded reusable coffee cups is the CamelBak® Hot Cap. Made from stainless steel, the cup will keep your coffee hotter for longer – a great choice for those whose clients may be outside often.
Sized at 350ml, this cup comes in the form of a universal cap that can be used with other CamelBak® products such as their larger bottles. The cap features a leak-proof rotating valve.
This coffee cup is perfect for everyday use. It disassembles for easy cleaning and will ensure that you have a toasty cup with you when you need that hit of coffee.
With its smooth design, the Hot Cap offers a large amount of space for you to add your branding. Including your company logo will create a sleek and professional finish for the product.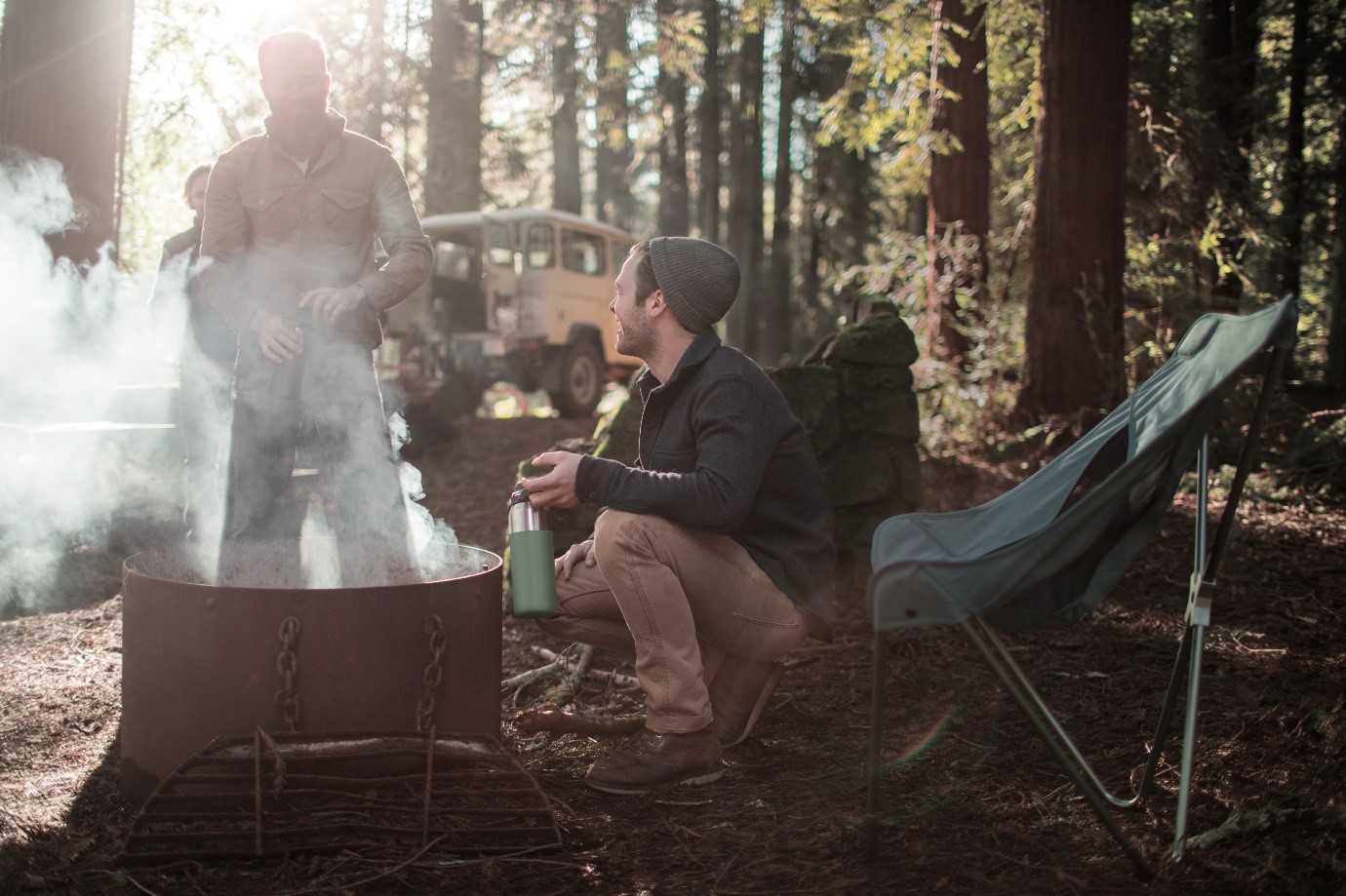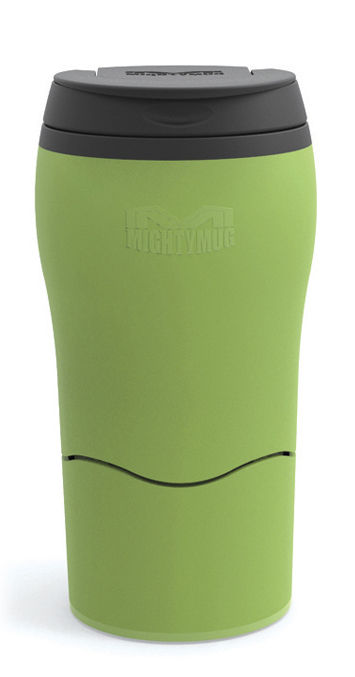 The Mighty Mug® is touted as the mug that won't fall over. You will not need to worry about spills again with this cup as it grips to the table. The leakproof lid further ensures that your surfaces stay clean from spillages.
Featuring a double wall construction, the stainless-steel interior wall keeps drinks hot for up to 6 hours and cold for up to 24 hours. Coming in 320ml (Solo) and 470ml (Go) sizes, the Mighty Mug® is great for everyday use, as well as for when you are outdoors.
Their sleek design makes them perfect for commercial environments and those searching for more professional looking products. These coffee mugs come in a variety of colours and there is ample space to add your branding messages or logo.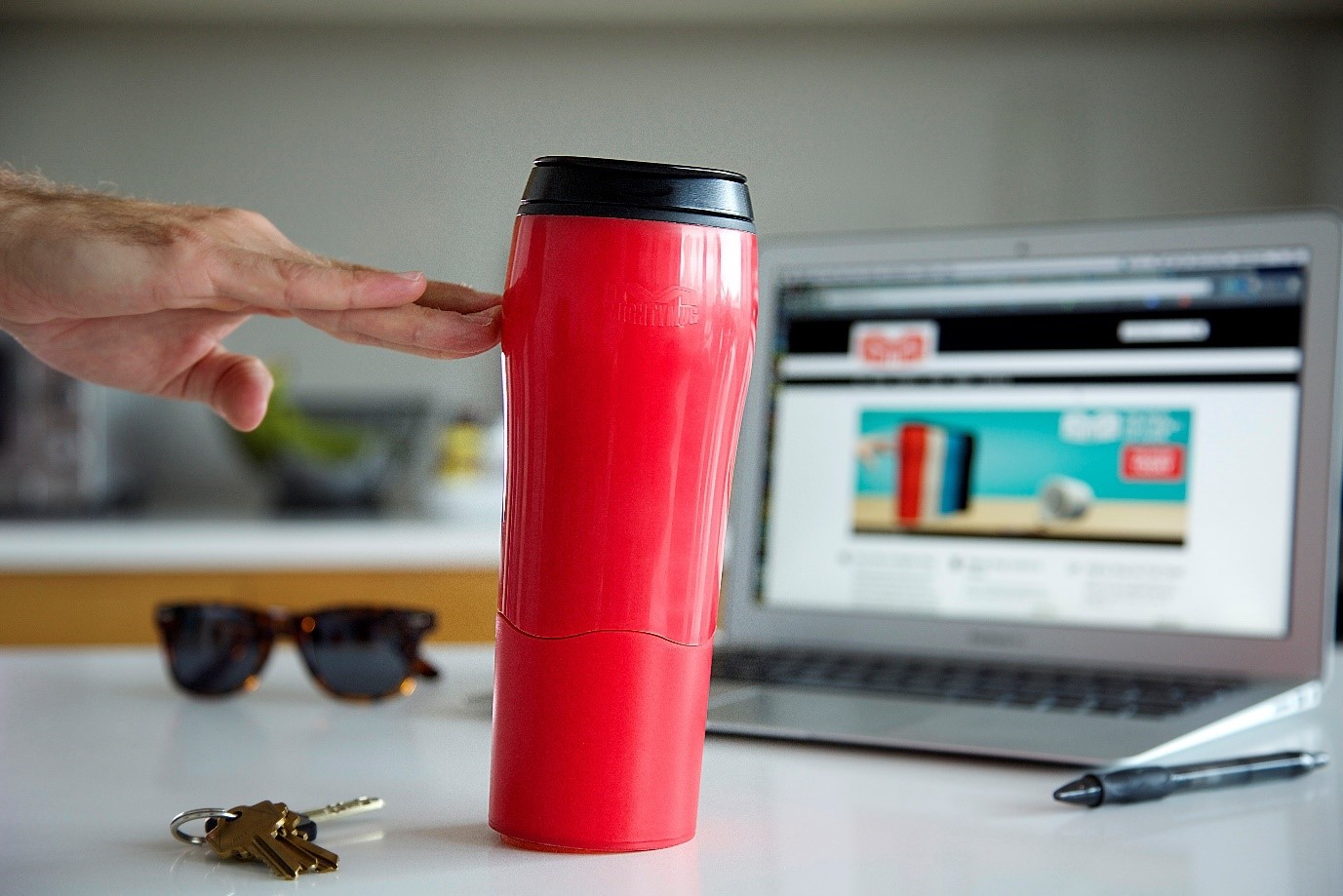 Known as one of the first branded reusable coffee cups, KeepCup believe that everyday choices shape the future. With this in mind, the team created a whole range of coffee cups varying in size, finish and colour.
KeepCup's Thermal range features double wall stainless steel and vacuum sealed thermal insulation to keep your coffee warm. The press fit lid adds to a cup that is fit for purpose – one you can take out and about, refilling at will.
Frank Green's reusable cups have a different style to many coffee cups on the market. The cup is made from full recycled co-polymer and can be recycled again at end of life.
The push-button lid means that the cup will not leak or spill as you take it around with you. The Frank Green reusable cup features a double-walled thermo outer layer that maintains the temperature of your liquid for hours.
Convenience is everything when it comes to the Stojo Cup. These are fully collapsible, making it easy to transport and store once you have finished your drink.
The cup is reusable, dishwasher safe and made from silicone. It can handle hot and cold liquids, though it is not insulated.
Stojo cups come in 8oz, 12oz, 16oz and 24oz sizes and a range of modern colours.
More About the Promotional Drinkware Products We Offer
At Premier Brands, we offer branded reusable coffee cups that are fit for purpose whilst looking great. Our expertise ensures a professional print finish for your cups, helping you to amplify your business branding and messages.
We offer printing on some of the products on this list, including those from Camelbak®, Ecoffee Cup® and Mighty Mug®. If you would like to know more about these products, then please get in touch.
Our team will be happy to talk through your print requirements. Call 01273 512 512 or complete the online contact form on our website.
We also supply other promotional merchandise including branded notebooks, pens and soap dispensers. Have a browse of our whole product range here.