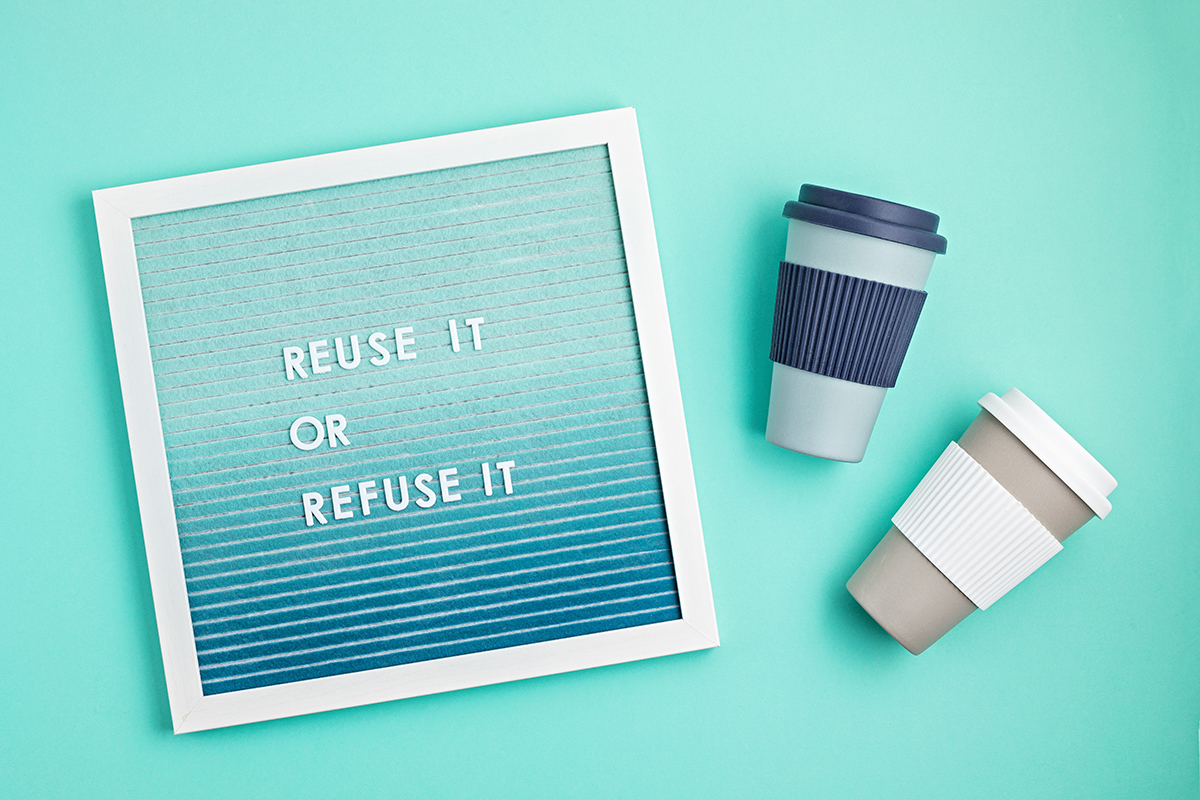 Astonishingly, 16 billion disposable paper cups are used and discarded for coffee each year. That leads to 6.5 million trees being cut down, 4 billion gallons of water going to waste and the equivalent of enough energy to power 54,000 homes for a whole year!
During the manufacturing process, most disposable cups are covered with a plastic paste known as polyethylene. This material makes the cups impossible to recycle.
These jaw dropping statistics have led to a complete ban in the use of single-use plastics such as straws and plastic covers in the UK. A good first step in the fight against climate change, but more can still be done.
What is the alternative to disposable coffee cups that you can offer your clients?
Reusable coffee cups have been available on the market for many years now, but its only more recently that technology and correct material selection has led to the development of truly environmentally friendly products. Over time, these products have become more robust, compact and slicker in terms of design.
Coffee chains are also getting in on the act. They are under increasing pressure from consumers to lower their environmental footprint by promoting the use of reusable coffee cups and allow customers to bring their own drinks vessel when they buy their coffee.
Many coffee shops are now actively encouraging the use of reusable coffee cups in store, and even offering vouchers and rewards for doing so.
Savvy coffee drinkers are not only helping to reduce waste that is created by disposable coffee cups, but they are also now able to earn coffee shop discounts and saving hundreds of pounds a year!
What are the benefits of reusable coffee cups?
It goes without saying that the benefits of using reusable coffee cups far outweigh the negatives of using disposable. However, sometimes consumers will need that extra little nudge in the right direction to help convince them of the value.
If your customers aren't convinced about the benefits of reusable coffee cups, maybe they will think twice when they hear about the next few points:
Reusable coffee cups can be used over and over, reducing waste and helping keep the environment cleaner and healthier.
You can actively save money by using reusable coffee cups at many coffee shops around the world!
You don't have to break your bank to afford one. Prices start from as little as £5-10.
They will keep your drinks hotter for much longer than normal disposable cups – Paper coffee cups can't keep drinks as warm as reusable counterparts. This is often because reusable cups are manufactured with thermal materials.
They can prevent leaks and spills making them perfect for use in the car or at work on your desk.
Our partnership with Ecoffee Cup
Here at Premier Brands, we have partnered with the World's leading reusable coffee cup suppliers Ecoffee Cup.
When we first made the decision to partner with a coffee cup manufacturer, it was vital for us that they were producing the most sustainable and environmentally friendly products on the market.
Ecoffee Cup and their fight against single-use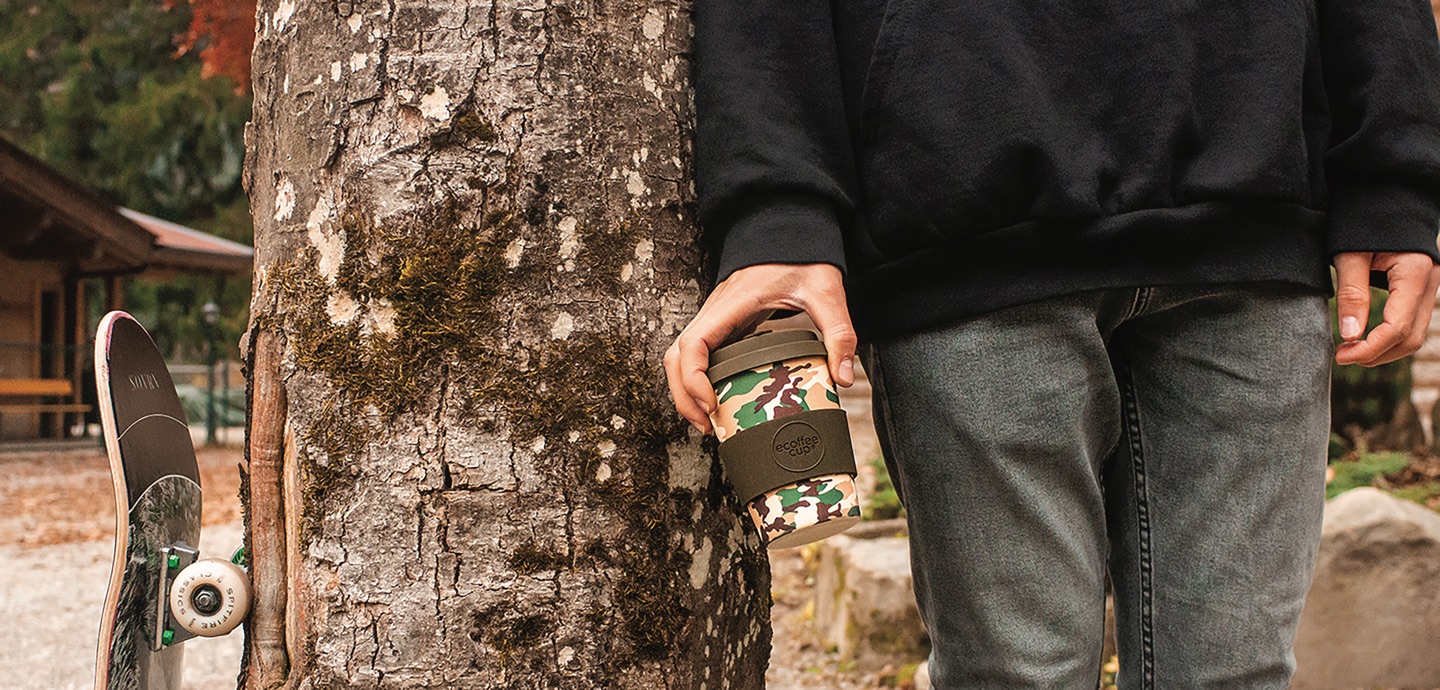 Ecoffee Cup have been at the forefront of the re-use generation ever since they were founded in London in 2014.
Their business was founded in response to the vast amounts of waste being produced by single-use cups.
Ecoffee Cup products are made with upcycled natural fibre, corn-starch and proprietary plant-based resin. The colourful cups are BPA, BPS and phthalate-free. The lid and sleeve of the product are made with matte, food-grade silicone which is latex-free and contains no animal or animal-derived ingredients.
If treated respectfully, your Ecoffee Cup should last for years and, when it does eventually reach the end of its life, Ecoffee Cup even provide a Closed Loop scheme that allows consumers in the UK, Europe and US to return all components, free of charge!
Our environmentally-friendly ranges
Promoting products becomes a lot easier when you know that they have a global benefit for everyone.
At Premier Brands, we stock and brand a wide range of Ecoffee Cup products which are great for reducing environmental impact. The Ecoffee Cup range includes 8oz, 12oz, 14oz and 16oz cups and come in a wide range of colours, patterns and designs.
If you are looking to offer products to your clients and customers that are part of an eco-friendly range then these products are perfect for you.
Branding Ecoffee Cup products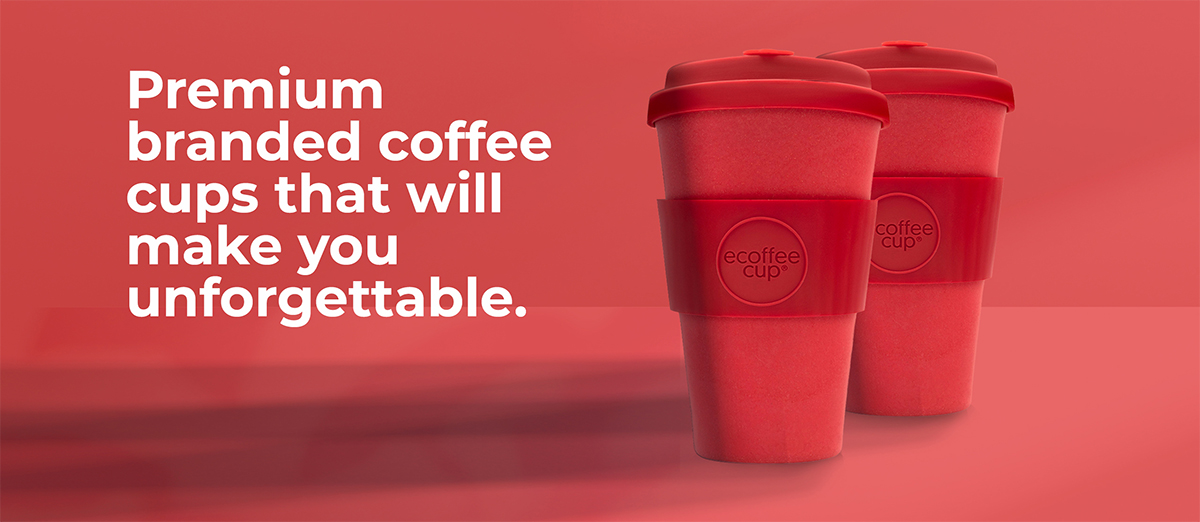 At Premier Brands, we offer a fully bespoke brand print service for our Ecoffee Cup range. We use the latest printing techniques and cutting-edge technology to apply brand logos and messages to the products, before they are sent out.
If you are unsure which product would best suit your requirements, please feel free to contact our team today and we will be happy to assist you.
We have over 30 years' experience in the branding industry and can help you to decide on the best colour and pattern choices to fit your brand.